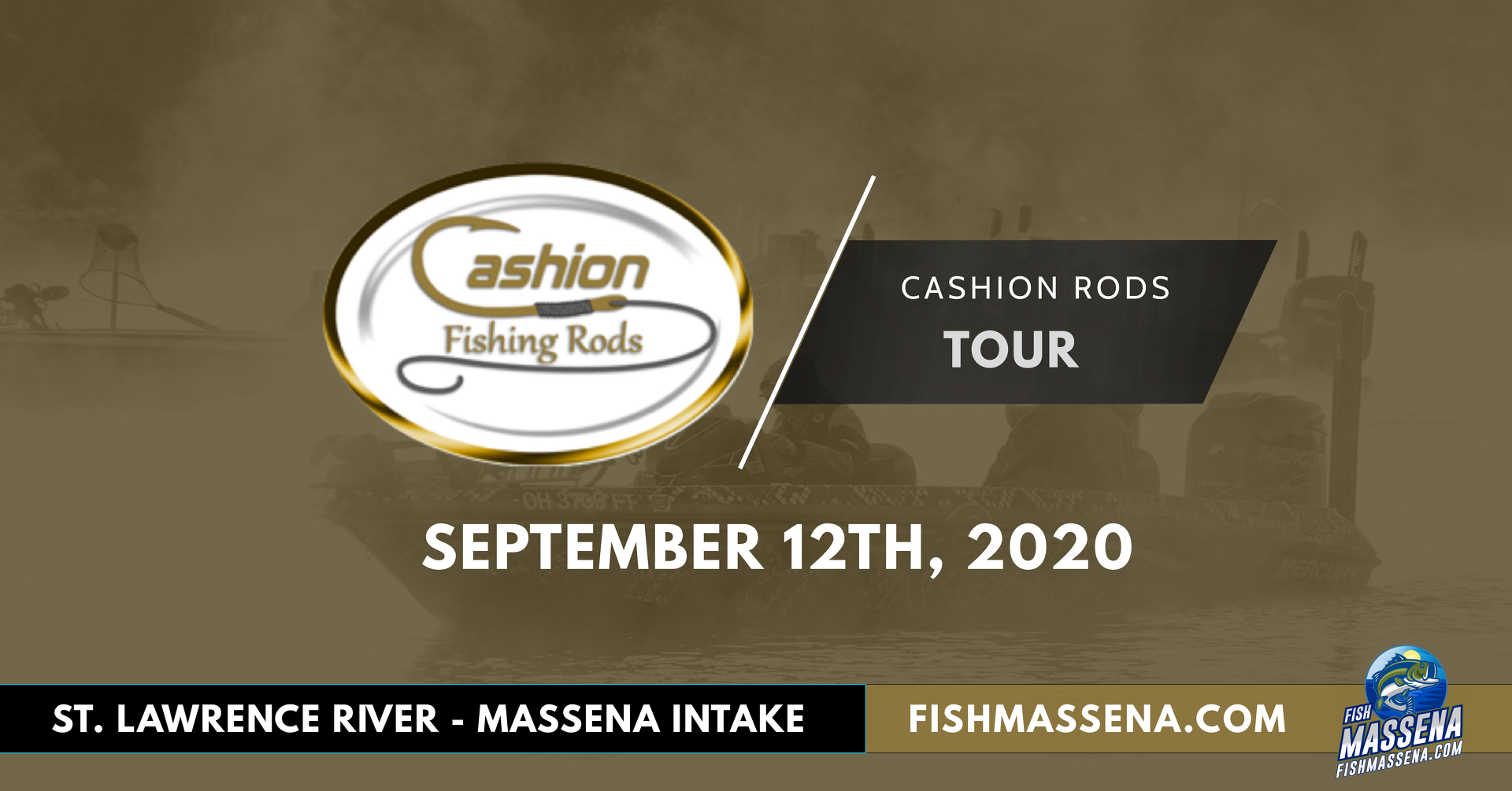 Cashion Rods Tour – St. Lawrence River
St Lawrence River, Massena NY September12th. The team at Cashion Rods is extremely excited about this tournament. Please make sure your payment was processed to secure your entry.
Register your team here.
Date: Saturday, September 12th, 2020
Where: St Lawrence River, Massena NY
Launch: Massena Intake Dam
Pre-Tournament Meeting: 5 pm Launch Site
Launch Time: 6:00am
Saturday, September 12th
– Proceed to ramp and prepare boat while in line
-Have  Live well lids open while in line
-Cashion Rods Representative will perform live well check while in line to launch the boat
-After putting the boat in water and parking tow vehicle one representative per team must stop by the Registration table to check-in
After the Prayer and National Anthem, Blast-off will commence and flights will be launched according to Pool and conducted in a fashion similar to BASS
-The starter boat will anchor and call each boat number one at a time
-Once okayed by the starter boat you are welcome to blast-off
The following procedure is required by participants to make the process run smoothly
– Return your boat number key chain to the attendants in the anchored Starter Boat. Returning your key chain boat number to the attendant marks your official return time. Please make sure you are back by the designated time according to your flight. You will be penalized 1 lb. per minute and after 15 min late your team will be disqualified.
– Please trailer your boat, beach, or dock boat and if weighing fish remember to keep your live wells full and aerators on
– When it is your turn to measure fish, you will be given the opportunity to ask for a courtesy measurement. If you accept and a fish measures short, the fish will be removed from your limit, but you will not receive a penalty. If you decline the courtesy measurement and a fish measures short YOU WILL BE DISQUALIFIED
– VERY IMPORTANT BIG BASS RULES! from winning any Tournament Prizes!If you wish to have a fish weighed for the Big Bass Prize, THE FISH MUST HAVE A CULLING PIN TO DISTINGUISH THE ONE YOU WISH TO WEIGH FOR THE BIG BASS PRIZE! This saves a lot of time. Pin the fish as you place it in the fish bag from your Livewell.
– Please confirm the weight of your fish and sign the weight confirmation form
– Participants are responsible for releasing fish back into the lake away from the shore
– Please hang around and hopefully, you will be awarded the Cashion Rods Massena Open Champion Trophies!