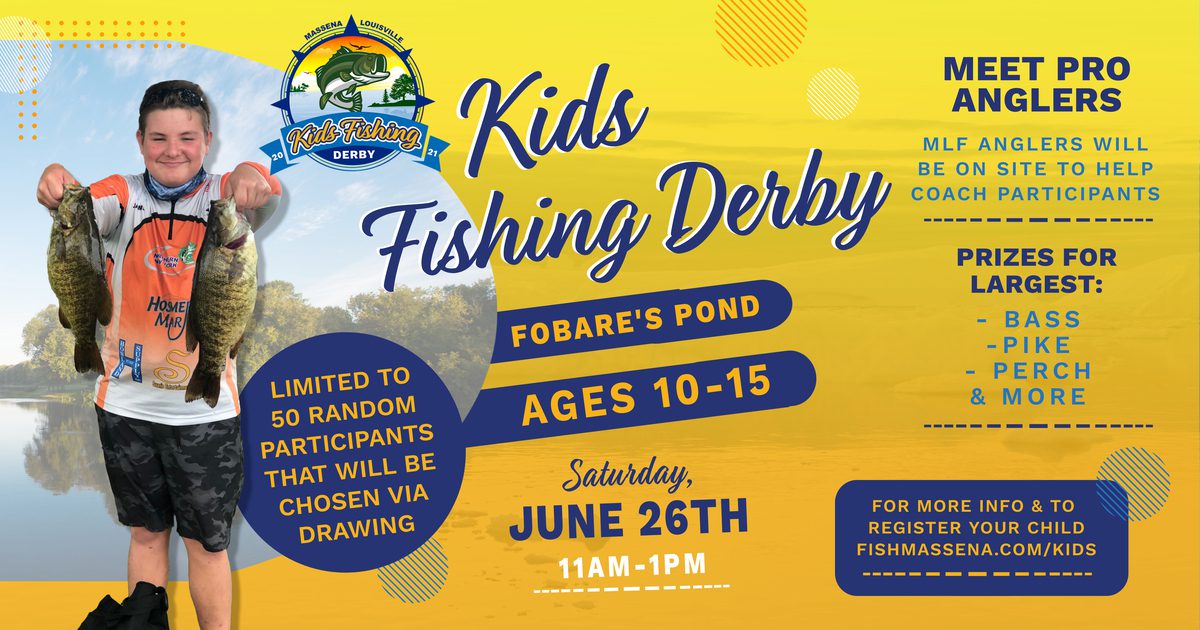 Date
Jun 26 2021
Expired!
Kids Fishing Derby – Ages 10-15
**REGISTRATION IS CLOSED FOR THIS EVENT. PARTICIPANTS HAVE BEEN CHOSEN FOR THE DERBY**
The Town Of Louisville will be a hosting a Kid's Fishing Derby on June 26th, 2021 as part of Fish Massena's "Season of Excitement". The derby will be open to only 50 participants who will be chosen at random. A drawing will be hosted on Fish Massena's Facebook page via Facebook Live at 7PM to determine the 50 kid anglers who will be participating along with 10 alternate kids anglers.
The kids derby is open to kids ages 10-15 and will take at Fobare's Pond (Sandy Beach) on Coles Creek Rd. from 11am-1pm on June 26th with registration beginning at 9:30AM. Current COVID-19 protocols will be in place at the time of the event.
Some MLF anglers will be on site to help coach the kids during the derby.  Prizes will be awarded for largemouth bass, smallmouth bass, northern pike, bullhead, perch, crappie & heaviest fish overall. Prizes will be determined prior to the event.
Please visit http://www.fishmassena.com/kids or follow Fish Massena for the latest updates.