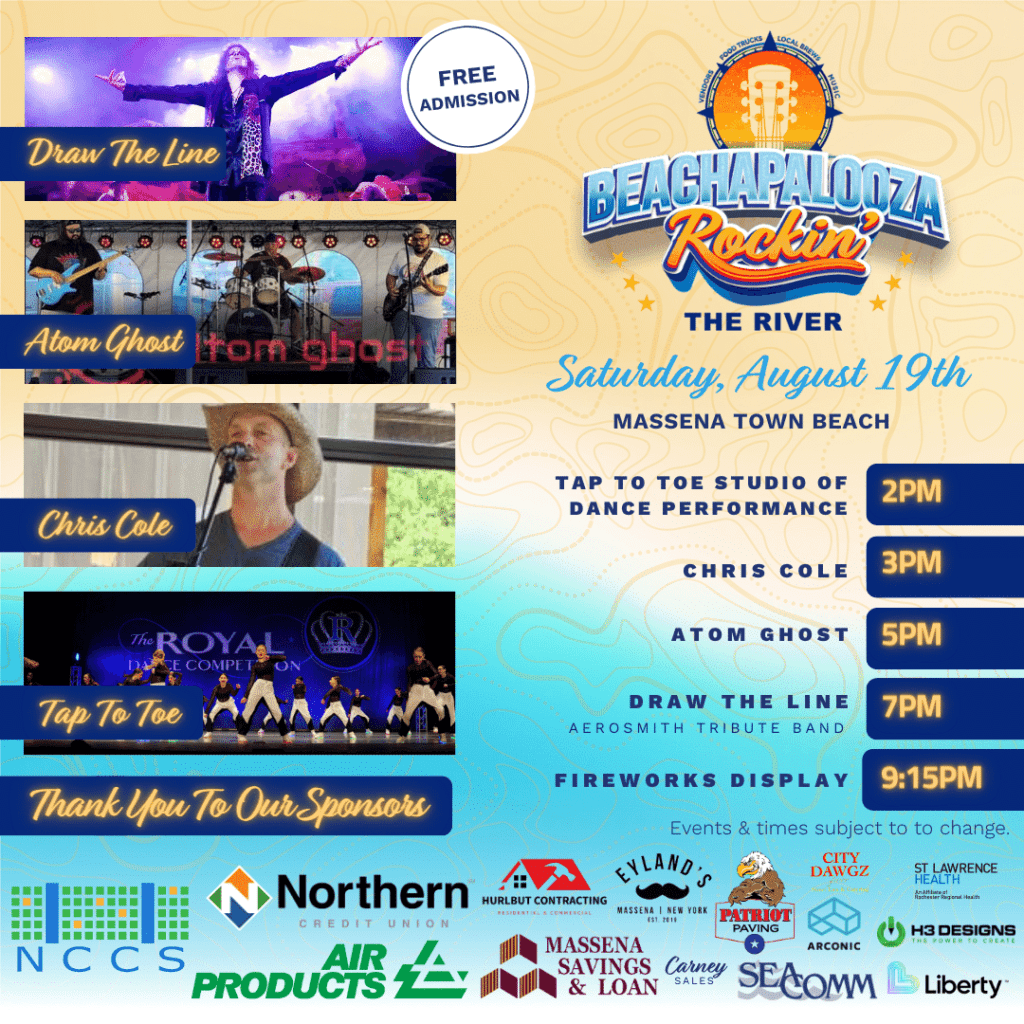 Summer in Massena just got a whole lot hotter! Get ready to crank up the excitement, because Rockin' The River : Beachapalooza is coming to town and it's going to be a music festival like no other. Get your groove on, soak up the sun, and let the good times roll as we dive into what's in store for this electrifying event.
Epic Lineup That Will Make You Move: Prepare to be blown away by an exceptional lineup of performers that will have you dancing to the rhythm of summer. From the heart-pounding beats of Draw The Line: Aerosmith Tribute Band to the soulful tunes of Atom Ghost, every act is geared to set the stage on fire. And that's not all – the talents of Chris Cole and the mesmerizing performances by Tap To Toe Studio of Dance will add a variety of flavors to this musical extravaganza.
Beachside Bliss and Musical Magic: Picture this: the sun setting over the water, and the air filled with the sounds of live music. That's the Beachapalooza experience. The Massena Town Beach is about to transform into a hub of entertainment, where you can sway to the melodies, mingle with friends, and create unforgettable memories by the riverside.
Tasty Treats and Cool Brews: What's a festival without some delicious bites and refreshing sips? Food trucks and beverage vendors will be ready to tantalize your taste buds and quench your thirst. Whether you're craving savory delights or sweet indulgences, you'll find a variety of options to satisfy your cravings.
Community Unity and Spectacular Fireworks: Rockin' The River: Beachapalooza isn't just about music; it's about coming together as a community and welcoming our neighbors for this event. Share smiles, make new friends, and connect with fellow music enthusiasts. As the event reaches its grand finale, the sky will light up with a spectacular fireworks show that will leave you in awe and spark a sense of unity among everyone present.
How to Join the Fun: Mark your calendars for Saturday, August 19th at 2 PM and make your way to the Massena Town Beach for a day of non-stop excitement. The event is free to attend, so don't miss out on securing your spot at this epic event. Remember to bring your chairs, dancing shoes, and your enthusiasm for an unforgettable summer celebration!
Embrace the Spirit of Beachapalooza: Get ready to groove, sway, and sing along as Massena transforms into a musical paradise. Rockin' The River: Beachapalooza is all about creating memories, sharing joy, and enjoying the beauty of our community. Join us and let's make this summer one for the books!
For more information, visit Rockin' The River : Beachapalooza event page.
This event wouldn't be possible without our event sponsors: North Country Colocation Services, Northern Credit Union, Air Products, Massena Savings & Loan, Seacomm Federal Credit Union, Patriot Paving, Hurlbut Contracting, Eyland's, Carney Sales, Liberty Utilities, Arconic, City Dawgz of NNY, H3 Designs & St. Lawrence Health
Let's rock the river and make Beachapalooza the highlight of our summer!
Jason Hendricks
Digital Brand Manager
Rockin' The River Event Organizer
Explore Massena Team